Transforming ONDC's Brand Visibility: A Wrap2Earn Cab Branding Campaign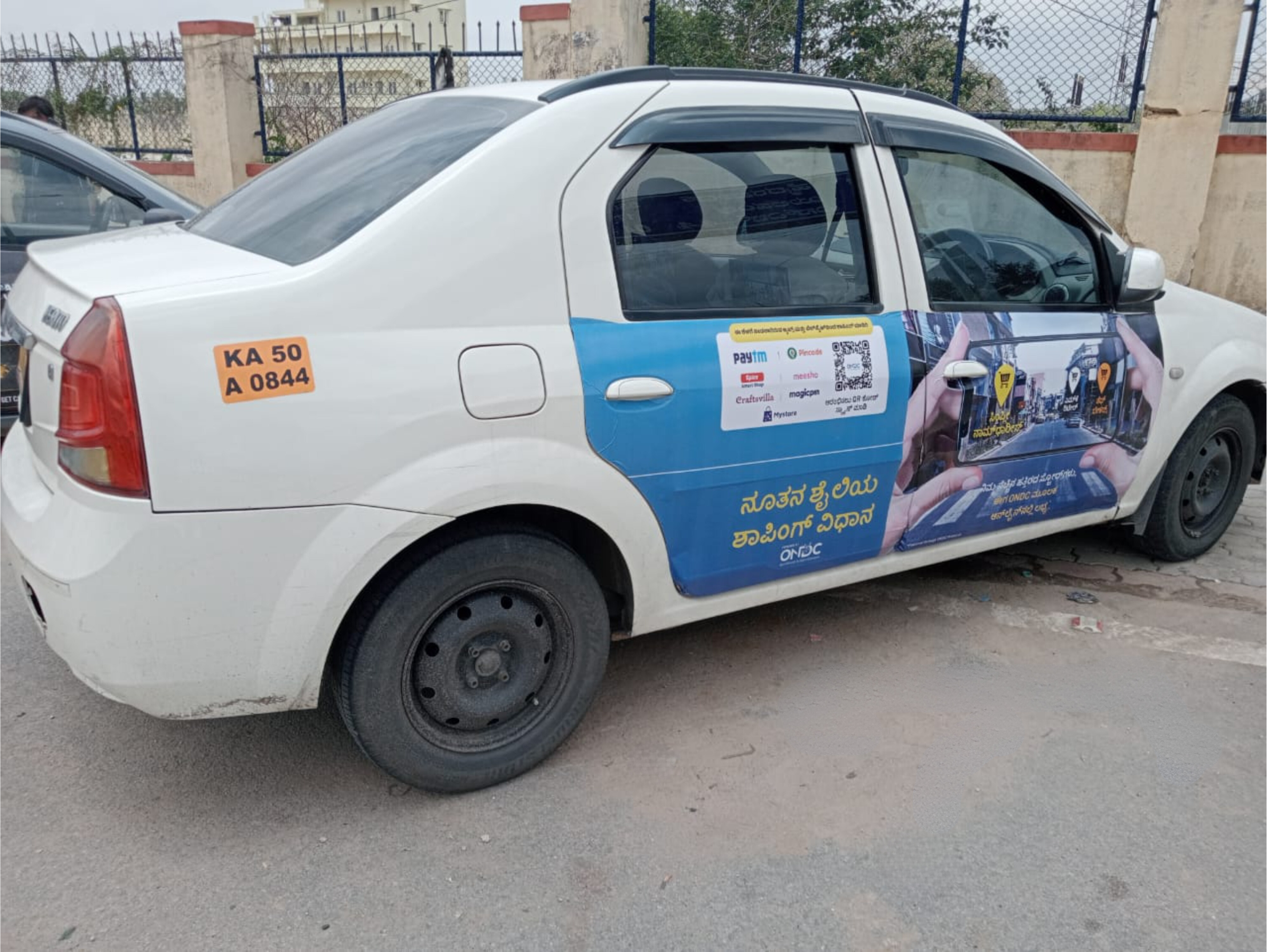 Introduction:
ONDC (Open Network for Digital Commerce) is a tech-based initiative to transform the way e-commerce functions in the country by enabling e-commerce through an open protocol based on open-source specifications. In the bustling urban landscape of Bangalore, ONDC, sought to embark on a journey to enhance its brand awareness, boost app downloads, and compete with international players in the market.
Faced with these challenges, ONDC decided to partner with Wrap2Earn, India's most trusted cab branding agency, to launch an innovative cab branding campaign aimed at achieving these objectives.
A multifaceted brand strategy
The collaborative effort between ONDC and Wrap2Earn led to a multi-faceted solution that would not only enhance brand awareness but also encourage app downloads and put ONDC in a competitive position alongside international players.
Attractive 4-Door Wraps: A fleet of 350 cabs was adorned with eye-catching 4-door wraps. These wraps served as mobile billboards, ensuring that ONDC's message was prominently displayed across the city.
Internal Branding for Enhanced Attention: The interior of the cabs was also used strategically for branding. Passengers were immersed in the ONDC experience during their ride, increasing the likelihood of app downloads and engagement.
QR Codes on Wraps & Sunboards: QR codes were strategically placed on the wraps and sunboards of the cabs. These codes provided a direct link to the ONDC app on the Play Store, making it easy for potential users to download the app instantly.
350 Cabs with Bangalore Focus: By focusing on Bangalore, ONDC ensured that its campaign reached a concentrated and relevant audience in a key market.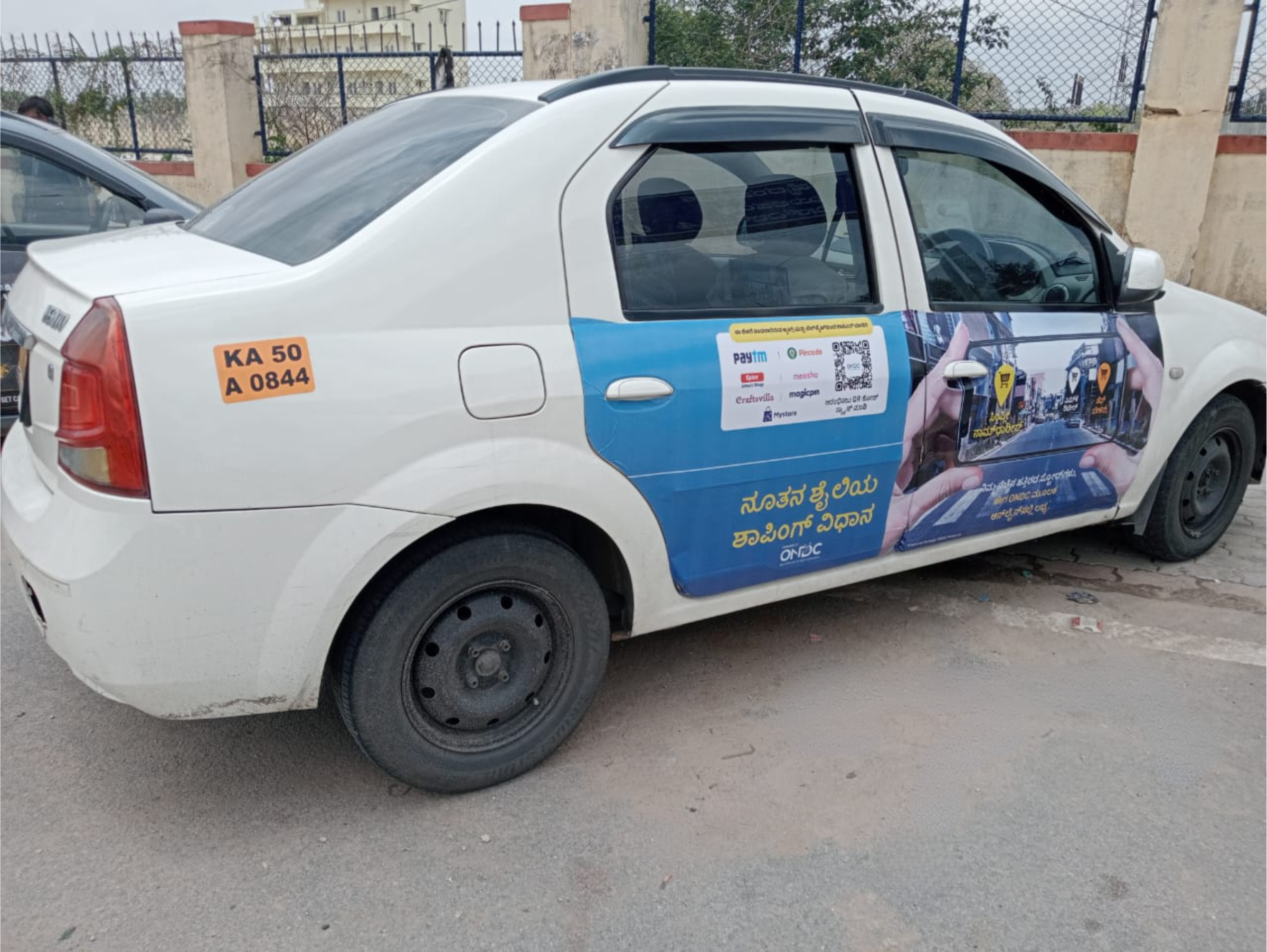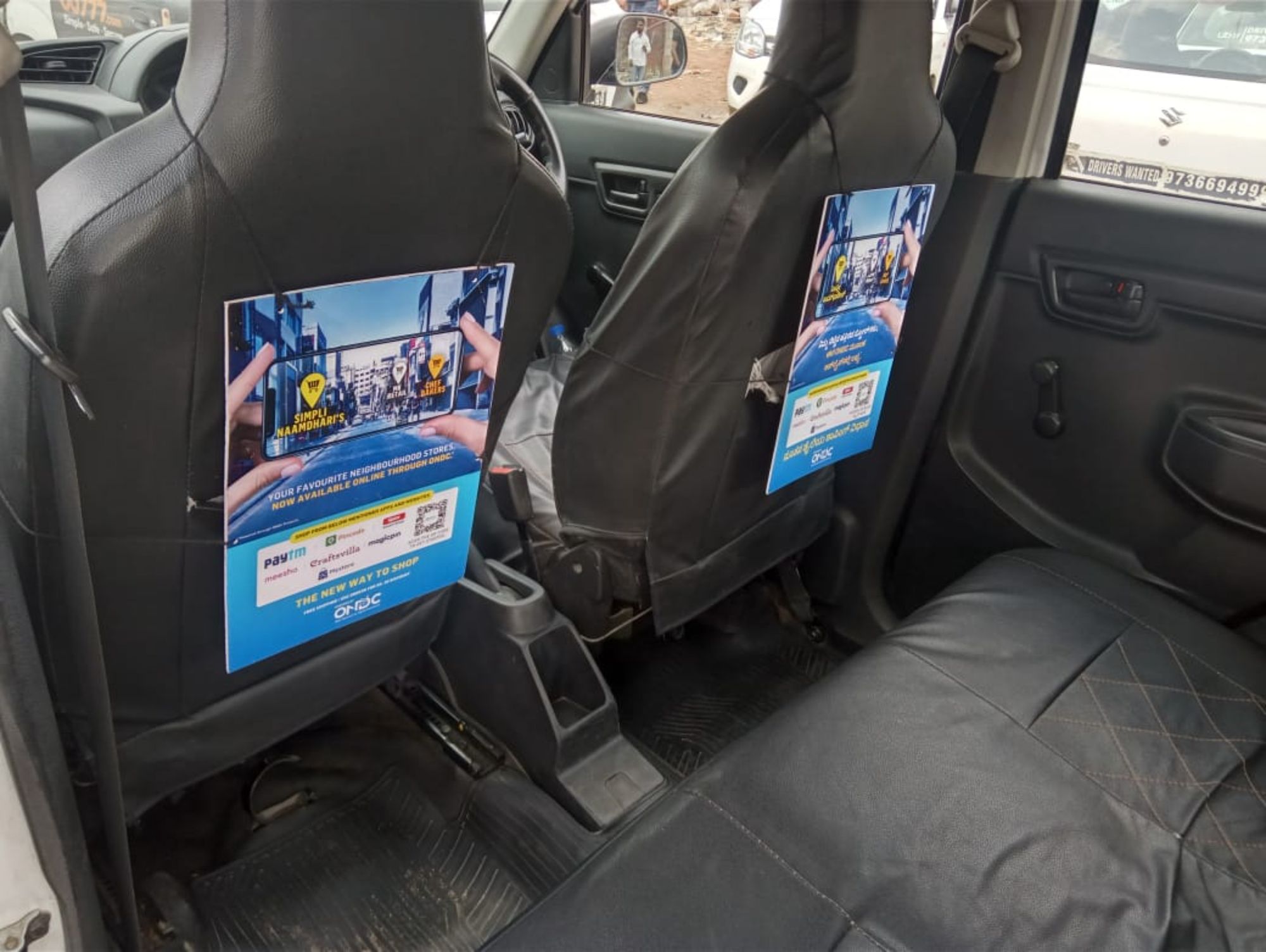 Key contributors to campaign success
The campaign's success can be attributed to several factors:
Frequency and Enhanced Visibility: The significant number of cabs wrapped ensured high-frequency exposure, making ONDC's presence impossible to ignore.
QR Code Engagement: The QR codes were a game-changer. They not only led curious onlookers to the app but also provided a measurable metric for campaign success.
Impactful Messaging: The simplicity of the messaging on the creative ensured that the brand's message was delivered effectively and memorably.
Results that revved up the market:
In just one month, with a focus on Bangalore, the ONDC Wrap2Earn cab branding campaign delivered remarkable results:
104 Million Impressions: The campaign achieved a staggering 104 million impressions, establishing ONDC as a recognized brand in the market.
900,000 Kilometers Driven: The 350 wrapped cabs covered a combined distance of 900,000 kilometers, ensuring that the brand was exposed to a vast and diverse audience.
Conclusion:
The ONDC x Wrap2Earn cab branding campaign stands as a testament to the power of innovative and strategic marketing. Through creative cab wraps, internal branding, and the strategic use of QR codes, ONDC achieved its goals of enhanced brand awareness, increased app downloads, and a competitive edge in the market. This successful partnership between ONDC and Wrap2Earn has set a new standard for cab branding campaigns, demonstrating the immense potential that lies within the urban landscape for brand transformation and growth.